Mumbai commuters get their groove on with impromptu jamming session
Comments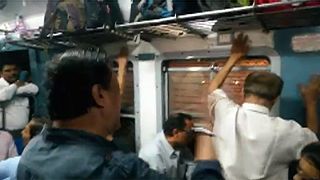 This is the moment commuters in India struck up an impromptu rhythm using only the sides of a train carriage.
It was captured by sports reporter Manas Mitul on a suburban service in Mumbai and it has since been widely-shared online.
Mumbai's rail network carries more than 7.5 million commuters each day.
Some commuters are said to commute up to four hours and getting on a train has been likened to finding somewhere to sit in a rugby scrum.