Long-lost Stradivarius violin thrills audiences again
Comments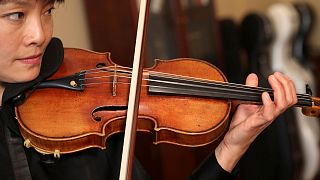 After being lost for decades, a rare Stradivarius violin is ready to thrill audiences again.
The 18th century instrument was stolen from its owner, violinist Roman Totenberg, who died in 2012.
Recovered two years ago, it has just been played in public at a private concert in New York by his former student and now virtuoso, Mira Wang.
"It means a great deal to me that I can use the violin, to be the first one who would bring it to the public. There's a complication in the emotions, there's a pressure, there's joy, there is a lot of sorrow that he could never see this or hear this and I wish he was with us," she said.
A Stradivarius, stolen and missing for 35 years, once again thrills audiences https://t.co/4PtCCK2dQApic.twitter.com/6lErt6qCQS

— Reuters Brasil (@ReutersBrazil) March 14, 2017
The instrument was made by renowned Italian violin maker Antonio Stradivari in 1734. Around 550 of his instruments, including violens, violas and cellos, remain in existence.
Totenberg, who was born in Lodz, Poland, in 1911, bought the violin in 1943. It was stolen in 1980 after a concert in Massachusetts and only resurfaced 35 years later after the death of the thief – one of Totenberg's former students.
The thief's wife took the instrument to violin maker and appraiser Phillip Injeian in New York, who immediately recognised it for what it was.
Mira Wang, originally from China, who describes her Polish-American mentor Totenberg as a massive influence, says never in her dreams did she think the violin would appear again.
The hot violin: Stolen Stradivarius resurfaces in private concert https://t.co/PqW0axEwkQpic.twitter.com/6YBRsew1pm

— Hamilton Spectator (@TheSpec) March 14, 2017