Turkey bans Dutch ambassador as diplomatic crisis deepens
Comments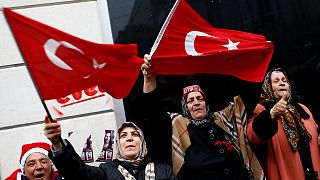 Turkey has barred the Dutch ambassador to Ankara in the deepening row between the two countries.
It is in response to a ban on Turkish ministers speaking at political rallies in the Netherlands.
The sanctions include the closure of Turkish airspace to all Dutch diplomats but do not appear to affect the travel of ordinary citizens.
In an interview on Turkish television, President Recep Tayyip Erdogan stressed the Netherlands must atone for its actions.
"Sooner or later, they will pay for this, but we will rapidly bring the Netherlands to account by diplomatic means. We cannot let this go adrift," Erdogan said.
Turkey has accused several EU countries of allowing Islamophobia and anti-Turkish sentiment to flourish. President Erdogan later added in the televised interview that he will pursue legal remedies:
"We will go to the European Court of Human Rights as well. Our ministers will make the necessary applications. I already know the answer we will get. But we will do what is necessary. We will take those steps and they can go their way."
In addition, Turkey's deputy Prime Minister, Numan Kurtulmus, announced that Ankara might re-evaluate its deal with the EU to halt the flow of migrants from Turkish shores to Europe.
On the Dutch side, Prime Minister Mark Rutte is demanding an apology from Turkey after it made comparisons with Nazi officials, saying such remarks were unacceptable.
On Saturday the Dutch government prevented Turkish ministers from campaigning among expatriates living in the Netherlands ahead of a controversial referendum which will extend Turkish presidential powers.
Turkey bans Dutch ambassador as diplomatic crisis escalates https://t.co/sgtzHRt7IS

— Muhammad A. Soomro (@92a312) March 13, 2017
But the Dutch police treatment of President Erdogan's supporters in Rotterdam at the weekend further outraged Ankara.
Meanwhile Austria's chancellor has also said he will ban Turkish ministers from campaigning in his country.