Erdogan's push for sweeping new powers for Turkey's presidency
Comments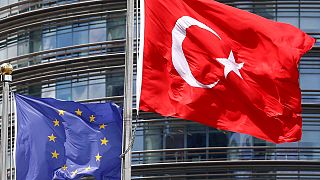 In March 2016 a deadly car bomb exploded near a transport hub in Ankara. It was the second mass casualty blast to hit the city in three weeks.
Turkey's then prime minister said there was "very serious evidence" to suggest the involvement of the Kurdistan Workers Party (PKK).
President Recep Tayyip Erdogan called for strong anti-terror laws to punish those who support terror. Including those sympathetic to the PKK.
Erdogan has also been pushing for the creation of an executive presidential system.
Adopted by parliament in January, the sweeping new powers for the presidency will be put to a referendum in April.
#Netherlands#NATO#Turkey

⚡️Turkey – Netherlands row heats up fast⚡️ pic.twitter.com/YwaYvYqDOq

— America1st (@iFightOn) March 13, 2017
Erdogan is now looking to Turkish expats living in Europe, especially Germany and the Netherlands to help clinch victory.
There are about three million Turks in Germany, almost half of whom have the right to vote. Hundreds of thousands live in France and Germany.
Turkey To Retaliate In 'Harshest Ways' As Diplomatic Crisis With The Netherlands Deepens [VIDEO] https://t.co/90sZ9D1Wx3pic.twitter.com/GqhlyHvKkJ

— The Daily Caller (@DailyCaller) March 13, 2017
Pro-Erdogan rallies have been called off in Germany and the Netherlands for public security reasons. The head of Bavaria's CSU party said "the campaigner Erdogan and his henchmen" were not wanted in Germany.
The Dutch prime minister said inflammatory remarks by Erdogan were not helpful.
Erdogan was speaking to gathered supporters after a Turkish minister was prevented from flying to Rotterdam. A second, who drove from Germany, was escorted out of the country.
We're not allowed to enter into our Consulate which is part of our homeland.Is this really the heart of Europe ot the cradle of civilization

— Dr.Betül Sayan Kaya (@drbetulsayan) March 11, 2017
"But when [we talk about] Nazism and fascism, they have an understanding that what they say is true, what they do is true, that they can either give or deny permission to anything they want and they go so far as to lock the door of our consulate building."
The diplomatic row comes ahead of Wednesday's Dutch election. Experts say that Geert Wilders's anti-EU, anti-Islam Freedom Party (PVV) would profit most from the war of words.
After Turkey's family minister was escorted into Germany, Wilders tweeted: "go away and never come back."
Go away and never come back drbetulsayan</a> and take all your Turkish fans from The Netherlands with you please. <a href="https://twitter.com/hashtag/byebye?src=hash">#byebye</a> <a href="https://t.co/FLKFNX2XGm">https://t.co/FLKFNX2XGm</a></p>&mdash; Geert Wilders (geertwilderspvv) March 11, 2017