Return of Renzi - Italy's ex-PM launches comeback
Comments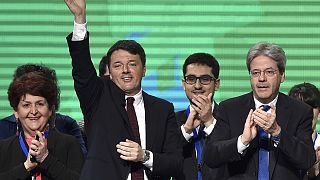 Former Italian prime minister Matteo Renzi is attempting a political comeback by launching a bid to recapture the leadership of the centre-left Democratic party (PD).
At a meeting in Turin he dismissed the recent defection of a group of leftwing dissidents ahead of contesting the party's primary election on April 30th.
"Some are trying to destroy the Democratic Party: you can calm yourselves …. rest assured the party was there before and it will be there after us."
Renzi was Italian prime minister for nearly three years until he resigned in December after losing a referendum on his flagship constitutional reforms. But far from leaving the political arena he is presenting himself as a barrier to the spread of populism.
Latest polls have the anti-establishment Five Star Movement which wants a referendum on euro membership as Italy's strongest party.
*Five Star Movement 28.5 percent Democratic Party 27.5 percent*
Analysts have Renzi winning the April vote despite critics accusing him of trying to move the party too far to the centre. Renzi hopes to lead the PD to victory in Italy's next general election, due in February 2018 at the latest.
#Italy#PD loses 2.3pps due to split, investigation into Renzi's father – Demos #pollpic.twitter.com/emMEM47M9N

— CEEMarketWatch (@CEEMarketWatch) March 6, 2017