Hundreds of flights cancelled in Berlin Airports strike
Comments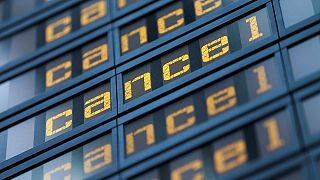 Hundreds of flights have been cancelled at Berlins's two airports, causing further misery for passengers already hit by industrial action last week.
I feel like I have been taken hostage

Stranded passenger
Ground staff downed tools once more on Monday in a dispute over pay.
Initially a one-day walkout, it has now been extended to Wednesday morning.
A spokesman for Berlin airports said that almost all flights would be cancelled on Monday — 194 at Schoenefeld and 448 in Tegel.
Hundreds of flights cut as Berlin airport strike extends to Wednesday https://t.co/8Bj4lhYyyMpic.twitter.com/hcGt7kz3WX

— The Local Germany (@TheLocalGermany) 13 mars 2017
"I feel like I have been taken hostage," said stranded German passenger Karl Koenigstaedt, who had been hoping to go to Las Palmas in the Canary Islands.
"I would like to fly on holiday and, as always with rail strikes and other strikes, those who suffer are the travellers."
"I am just sitting here waiting for someone to show up and hopefully get some more information than what we already had, that is: no airplanes today," said Portuguese would-be passenger Teresa Paive, also waiting to fly from Berlin's Tegel Airport.
Severe disruption to air traffic due to the strike of ground staff. 660 flights canceled, 195 in #SXF, 465 in #TXL. https://t.co/7hbnbY1g85pic.twitter.com/OGCp1qjk9r

— Berlin Airport (@berlinairport) 13 mars 2017
Ground staff jobs include checking in passengers, loading and unloading planes and directing aircraft on the tarmac.
On Friday, the last strike led to the cancellation of nearly 700 flights, leaving tens of thousands of passengers stranded in the German capital.
with Reuters