More than 40 cities hold pro-EU rallies
Comments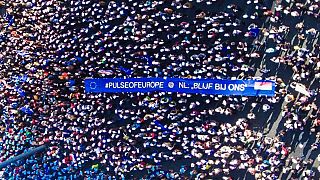 Thousands of pro-EU protesters have taken part in rallies across Europe to voice their support for the bloc.
Berlin saw one of the largest demonstrations ahead of next week's Dutch election. The rallies were organised by the 'Pulse of Europe' movement.
#pulseofeurope Now almost 6000 Berliners & many more pro Europeans in over 40 cities are now singing the Ode to Joy pic.twitter.com/zq2W8fJqHr

— Funk (@funk67) March 12, 2017
Many of those in the German capital said they had come to urge the Netherlands and France to vote against and far-right parties in upcoming elections.
"My impression is that Europe is more important now than ever. It is the only answer we have to Trump, Putin and co. It means we must now to stand together and work together," one man said.
"I hope that Geert Wilders doesn't win, and the Dutch want to stay in Europe. I also wish the same for France," said another man.
In total, more than 40 cities, mostly in Germany, took part in Sunday's pro-EU rallies. Along with Berlin, Brussels and Amsterdam also saw smaller demonstrations.
"Stay with us" is the rally's message for the upcoming election in the #Netherlands#pulseofeurope#Colognepic.twitter.com/VaWj1D26ql

— Kiyo Dörrer (@KiyoDoerrer) March 12, 2017