Jordan frees soldier who murdered several Israeli schoolgirls
Comments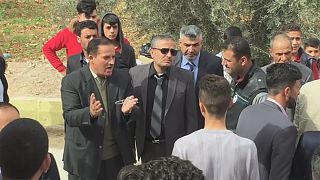 There have been celebratory scenes in Jordan after a man who killed seven Israeli schoolgirls in 1997 was freed from jail.
Amateur video showed crowds dancing and signing around Ahmed Daqamseh on his return to his family home near the northern city of Irbid.
At soldier at the time, he opened fire on the school children while they were on a class trip to Jordan's border area. Several other girls were also wounded in the shooting.
Daqamseh would have faced the death penalty but a Jordanian military court deemed him mentally unstable and sentenced him to life in prison. In Jordan, this usually means 25 years, but lawmakers lobbied for him to be released early.
Israel did not immediately comment on the former soldier's release.