Dozens feared dead after landslide at Ethiopian rubbish dump
Comments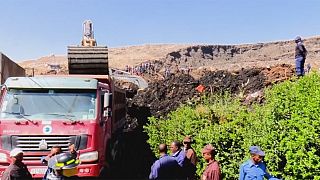 At least 46 people have been killed in Ethiopia after a giant landslide at a rubbish dump near Addis Ababa.
Dozens of others were also injured in the incident.
Makeshift homes surrounding the landfill are said to have been completely flattened and buried by waste.
It is thought that tipping at the site – a rubbish dump for the Ethiopian capital for the past 50 years – had resumed in recent months, having previously been stopped.
Assefa Teklemahimanot, a local resident said: "We told them not to dump waste at the top. I think the decision by city officials to resume dumping some months back was the main reason for this accident, which has so far buried at least 20 houses. I think around 150 people were here at the time of the landslide."
Many of the victims – including a number of children – are thought to have been scavenging for items to sell.
Others, are believed to have been squatters living in poorly constructed huts next to the landfill.