Demonstration turns violent in Georgia
Comments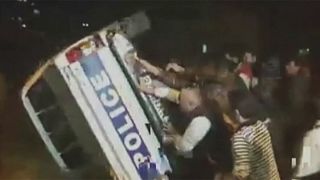 Numerous people have been injured in clashes between protesters and riot police in Georgia.
Demonstrations over the arrest of several men over unpaid parking fines turned violent in the Black Sea city of Batumi.
Protesters gathered in front of a police building, demanding the release of the drivers.
The Interior Minister was quoted as saying those involved in the violence would be punished.
But then, apparently attempting to calm the situation, he reportedly said the arrested men would be released.