Fears of confrontation in Seoul amid turmoil over president's ousting
Comments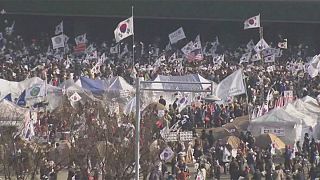 Thousands of supporters of the ousted South Korean President have turned out on to the streets, while opposing protesters call for her to be arrested.
Tension is high after the country's constitutional court confirmed impeachment and removed Park Geun-hye from office over allegations of corruption.
Fears of confrontation are high after the deaths of two Park supporters during clashes on Friday. A third elderly man also died of a heart attack.
Kim Yong-Deok, the head of the National Election Commission, told reporters: "We are in a very serious situation where we must elect the next president by May the 9th at the latest.
"It is concerning that the conflict we've seen might now be aggravated due to the election or that the election atmosphere might get overheated."
Park is the country's first democratically elected president to be kicked out of office.
The move came after months of political turmoil and protests over a corruption scandal that has also seen the arrest of the head of the Samsung conglomerate.
Park, who has now lost her immunity, could yet face charges.