Tribes take Dakota pipeline protest to Trump's doorstep
Comments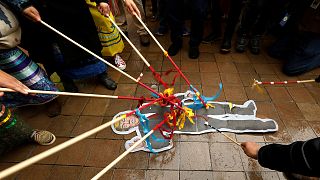 Thousands of demonstrators, including members of Native American tribes, rallied in Washington on Friday to denounce the Dakota Access oil pipeline.
The project is part of President Donald Trump's so-called 'energy revolution'.
But environmentalists say the completion of the pipeline will put farming, drinking water and entire ecosystems at risk.
Running adjacent to tribal territory in North Dakota, the construction will, say indigenous people, threaten sites they consider to be sacred.
Public opposition to the pipeline drew thousands of people to the North Dakota plains last year, including high-profile political and celebrity supporters, some of whom are keeping up the pressure.
Outside Trump Hotel DC #PipelineProtest#StandingRockpic.twitter.com/WnPhG6GMvc

— Patricia Arquette (@PattyArquette) 10 mars 2017
The tribes won a reprieve in the last days of the Obama administration. But just days after taking office in January, Trump signed an executive order, smoothing the way for the project to go ahead.
This week, a judge rejected the tribes' request for an injunction.
Most of the nearly 1,900 kilometre long pipeline is already built. Crossing four states, it will transport up to 570,000 barrels of oil a day from North Dakota to refineries in Illinois.
The Dakota Access Pipeline is being built by a subsidiary of Texas-based firm Energy Transfer Partners (ETP).
with Reuters