Two killed in Switzerland cafe shooting
Comments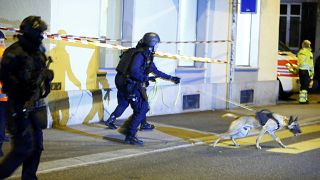 At least two people have been killed one seriously injured in a shooting at a cafe in Basel, in the north-west of Switzerland.
Just after 8pm local time, two men entered Cafe 56 and opened fire, according to reports.
The suspects are on the run and their motives have not been identified.
Police have launched an appeal for anyone with information on the incident to come forward.
A photographer for AFP news agency said a bullet mark was clearly visible on one of the cafe's windows.
The street where the cafe is located was closed for the emergency services.
Deadly shootings are relatively rare in Switzerland. However, men who have carried out military service are allowed to keep their weapons at home as reservists.
It is a legal right that has stirred controversy, particularly when the weapons are used in cases of domestic violence.