Starbucks' customer support 'wanes' after CEO's refugee hiring promise
Comments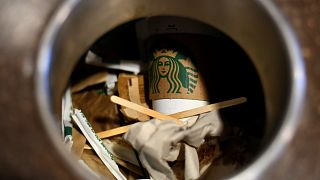 Customer support for Starbucks has waned in recent weeks as customers negatively react to the American coffee shop giant's promise to hire thousands of refugees, according to brand index data.
Starbucks CEO Howard Schultz vowed on January 29 to hire 10,000 refugees immediately following US President Donald Trump's first executive order restricting US arrivals from seven Muslim-majority countries.
Schultz said he would make the hires over five years.
The move has apparently hurt customer sentiments at a time when customer traffic to Starbucks coffee shops across the country declined faster than anticipated last quarter.
Starbucks' refugee hiring program to counter Trump is hurting brand and sales, Credit Suisse says. https://t.co/o8gjzsxqzO

—

CNBC

(@CNBC) March 8, 2017
According to data from YouGov BrandIndex, which tracks customers' support for, and willingness to purchase goods from various companies, customer benchmarks for Starbucks were in decline from Jan. 29 to Feb. 13.
A YouGov BrandIndex score of "0" reflects equal positive to negative perceptions about a company. The scores are determined by subtracting negative from positive feedback.
Starbucks had fallen from a score of 4, to a score of 12 during that time, showing increased dissatisfaction.
The company's score has rebounded since then with a score of 7, shows the brand index.
However, Kantar Millward Brown, a market research consultancy and "long-term" partner of Starbucks, however, disputes Yougov's findings.
In a letter written to Starbucks management, Brian James the consultancy's brand and communications practice said the company did not experience any measurable negative feedback.
"Such backlash or declines are not substantiated in our own measurement of Starbucks Brand Health and Consumer Sentiment," said James. "In fact, in February 2017—after the announcement—we did not observe any substantive impact on Customer Consideration, Future Visitation Intent or Brand Perceptions or any other key performance metrics for the Starbucks brand."
Schultz's hiring announcement sparked outrage on social media, with some accusing the company of prioritising the hiring of foreign workers over that of US military veterans and spouses.
Starbucks in 2013 launched an initiative to hire 10,000 veterans and military wives over five years.
The company company claims it hired 8,800 veterans, it said in a statement, which added the hiring of refugees throughout the world would be an extension of its philanthropic program.
Keep boycotting, Starbucks</a> will get the picture we aren&#39;t f***ing around.<a href="https://twitter.com/hashtag/MAGA?src=hash">#MAGA</a> <a href="https://twitter.com/hashtag/MASA?src=hash">#MASA</a> <a href="https://twitter.com/hashtag/Trump?src=hash">#Trump</a> <a href="https://twitter.com/hashtag/AmericaFirst?src=hash">#AmericaFirst</a> <a href="https://t.co/h4Aqqw7ake">https://t.co/h4Aqqw7ake</a></p>&mdash; PrimeNumb3r (PrimeNumb3r) February 28, 2017
But that has not stopped social media protestors urging a generalised boycott of Starbucks stores and coffee.
These same are calling on coffee drinkers to support the company's main rival, Dunkin' Donuts.