Hollande won't tell Euronews who he will vote for in French election
Comments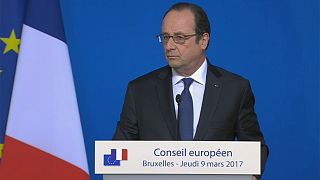 Outgoing French leader Francois Hollande has still not made public his choice for the country's upcoming presidential election.
In an article published in European newspapers this week, he said that his "ultimate duty" was to prevent a victory of far-right National Front leader Marine Le Pen.
"My ultimate duty is to make sure that France is not won over by such a programme, and that France does not bear such a heavy responsibility," said Hollande of the risk of a Le Pen victory in the poll.
The interview was published on Monday in Le Monde, La Stampa, The Guardian, La Vanguardia, Suddeutsche Zeitung and Gazeta Wyborcza.
France's Hollande: My 'ultimate duty' is to prevent a Marine Le Pen presidencyhttps://t.co/1Lgfj3aeTM… pic.twitter.com/M13wMgtWnG

— dwnews (@dwnews) 6 mars 2017
Significantly, fellow Socialist Benoit Hamon has not yet received Hollande's support, nor has Emmanuel Macron, who left Hollande's government to set up his own political movement.
British Euronews journalist James Franey tried to pin Hollande down at a Brussels news conference on Thursday, asking him:
"Who will you vote for in the first round, Hamon or Macron?"
Then, citing the two frontrunners, James went on: "And in the second round, who will you vote for between Marine Le Pen or Emmanuel Macron?"
Taken aback and amused, Hollande thanked James for the "candidness" of his question.
"Even French journalists don't dare ask it!" he said.
And, amid laughter in the press room, Hollande went on:
"But you…I will give you an answer later, and in English if necessary!"
with Reuters