Kids interrupt BBC news interview and make the internet LOL
Comments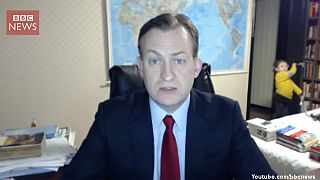 They say never mix children and live television. This video illustrates why.
The BBC was interviewing Pusan National University Professor Robert Kelly about the complex forces at work in South Korean politics.
The interview was from the guest's house, when his young child wandered into shot and began dancing. But then things got more comical when the child was followed by a younger sibling in a baby stroller.
The best was yet to come, however, when a woman rushes in (more slides in) to try to save the situation.
The result is a television blooper that has already made the world giggle and earned the BBC plenty of views on YouTube.
And here it is:
"It shows you can never be over prepared for an interview. But media training doesn't normally extend to the rest of the family," said Andy Bloxham, head of Technology, Media and Telecoms at consultants Engage by Bell Pottinger.