Turkish - German relations remain tense
Comments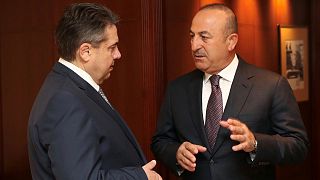 Relations between Germany and Turkey are still far from friendly despite attempts in Berlin to lessen tensions.
In Ankara President Recep Tayyip Erdogan urged Turkish voters living abroad not to be put off casting their ballots in the country's upcoming referendum despite so-called "obstacles"being put in place in countries like Germany .
"Those votes you cast will be the best response, not just to all the countries in the West, but to all the countries in the world. God willing April 16 will be the day that my citizens who have been hindered in the West and around the world will also celebrate."
Turkey is targeting millions of its expatriate voters eligible to cast a ballot in the referendum – including 1.4million in Germany.
Earlier, the foreign ministers of both countries met in Berlin in an attempt to defuse the diplomatic crisis which has culminated with Erdogan accusing German officials of " "Nazi practices. Sigmar Gabriel said talks had been friendly and open but also contentious and hard.
"I made clear that equations of modern Germany with Nazi Germany and attacks against democracy and justice are not acceptable."
Even so Gabriel was also keen to stress the "success" of the two nations' ties, and stressed his intention to avoid lasting damage to them.
Turkey is angry that several rallies designed to encourage support among "expats" for the April referendum have been cancelled by German municipalities.
The referendum which proposes constitutional changes will give more power to President Erdogan.
On Wednesday evening (March 8) Turkish Foreign Minister Mevlut Cavusoglu repeated the Nazi comparison from the country's consular residence in Hamburg. A larger scheduled rally had earlier been banned.
Austria has called for a ban on all Turkish rallies in EU countries, and the Netherlands has also said it does not approve of a meeting planned for Rotterdam.