Tense talks for Turkish-German ministers after Nazi comparisons
Comments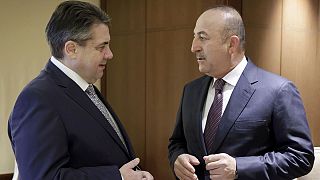 Meeting his Turkish counterpart in Berlin on Wednesday, Germany's Foreign Minister Sigmar Gabriel has tried to defuse the diplomatic crisis between the two nations.
Do we want to continue as two friendly nations or...cut ties?

Turkish Foreign Minister
Gabriel said both he and Turkey's Foreign Minister Mevlut Cavusoglu wanted normal, better bilateral ties.
But he stressed that there are red lines – a reference to Turkish President Recep Tayyip Erdogan's claim that German officials acted like Nazis in cancelling campaign events for Turkey's upcoming referendum.
"We want to get along peacefully and well with this country and to solve disputes in a democratic manner, to ensure that nobody is treated disrespectfully and that they can count on the friendship of the Germans," Gabriel told reporters.
But he added: "There simply are limits one must not go beyond and the comparison with Nazi Germany is one of them."
Germany's @SigmarGabriel hopes to rebuild Turkish friendship, without Nazi comparisonshttps://t.co/DQhu18PPXrpic.twitter.com/mXIJkihyCr

— DW | Europe (@dw_europe) March 8, 2017
Visiting a tourism event in Berlin on Wednesday, Cavusoglu said he had told his German counterpart that Turkey was "very disturbed" by the cancellation of events where Turkish ministers had been due to speak in Germany and that this should not be repeated.
He said he had discussed a possible venue for Erdogan himself to stage a rally in Germany for the Turkish diaspora there, before next month's ballot on increasing presidential powers.
Cavusoglu also criticised what he said was anti-Islamic sentiment and hostile attitudes towards Turkey in Germany.
"Do we want to continue as two 'friendly nations' or do we prefer to cut our ties? As Turkey we favour continuing as friends but Germany must decide on this as well so that we can go forward according to that decision," Cavusoglu said.
He was equally blunt at a campaign rally of his own in Hamburg on Tuesday, telling Germany not to lecture his country on human rights.
Already tense relations between the NATO allies have deteriorated in the last week since the arrest of a German-Turkish journalist in Turkey.
Die Welt demands release of Turkish-German journalist Deniz Yücel in letter to Erdoğan https://t.co/8MPTWK5LWHpic.twitter.com/ymW14MinpX

— Hürriyet Daily News (@HDNER) 8 mars 2017
with Reuters