'I will go to the Netherlands!': Turkish minister defies Dutch resistance
Comments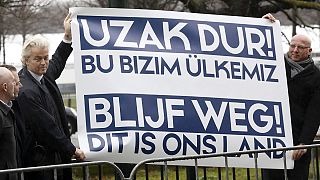 Tension is rising across Europe over Turkey dispatching ministers to campaign for its vote on giving President Recep Tayyip Erdogan more powers.
In the Netherlands, anti-Islam politician Geert Wilders protested outside the Turkish embassy on Wednesday.
But despite a planned rally in Rotterdam being cancelled, Turkish Foreign Minister Mevlut Cavusoglu is defiant.
"I will go to the Netherlands, of course I will," he told reporters in Ankara on Thursday.
"Everybody should know that no such implementations, no such obstacles can stop us. Nobody can stop us from meeting our citizens. We will not succumb to fascists and racists like Wilders. We will go and meet our citizens whenever and wherever they want."
Turkey will not succumb to 'fascists and racists' like Dutch politician Wilders: FM https://t.co/Dn2GXvcyc4pic.twitter.com/2anS5wz7rB

— Hürriyet Daily News (@HDNER) 9 mars 2017
With a Dutch general election being held next week, the Turkish campaign visits to enlist the votes of citizens abroad have become the focus of fevered debate.
At the EU summit in Brussels on Thursday, Dutch Prime Minister Mark Rutte made his opposition clear.
"The Turks know that we are against such a visit to address large groups of Turks," he said.
"It has to do with the fact that he is a minister. It is not that we are barring Turkish politicians but ministers who want to talk about such purely national issues."
Dutch look at legal options to stop Turkish referendum rally https://t.co/2vcRLrqlQL

— DutchNews.NL (@DutchNewsNL) 4 mars 2017
Nonetheless, Turkey's Family and Social Affairs Minister Fatma Betul Sayan Kaya has now announced plans for a campaign rally in the Netherlands despite the proposed venue being cancelled.
As well as in the Netherlands and Germany, planned Turkish ministerial visits are also meeting resistance in Switzerland and in Austria which has proposed an EU-wide ban on Turkish referendum rallies.