Hawaii launches first legal challenge to Trump travel ban
Comments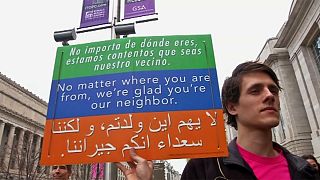 Hawaii has become the first US state to request an emergency order halting President Donald Trump's revised travel restrictions, or in the words of its attorney general, 'Muslim Ban 2.0'.
Doug Chin argues the second version of the controversial executive order violates the constitution and is, fundamentally, no different to the first.
"Essentially what you have is you still have a blanket ban against entry from people who are from different nations. It used to be seven. The biggest problem with that is you have an order that's discriminating against people based on their nation of origin. Or based upon their religion," said Chin.
It follows a ruling by US District Court Judge Derrick Watson agreeing that Hawaii could revise its initial lawsuit, which challenged the original travel ban.
A court hearing is scheduled for March 15, a day before the ban is expected to take effect. If the judge rules in favour of Hawaii, the temporary restraining order should apply nationally.
The previous directive provoked nationwide protests and was blocked by a federal court.
Version two places a 90-day halt on travel for citizens from six mainly-Muslim countries and a 120-day ban on entry for refugees. Included in the initial order, Iraq has now been taken off the list.