Trump travel ban prompts mixed reactions
Comments
By
Euronews
with
Reuters, New York Times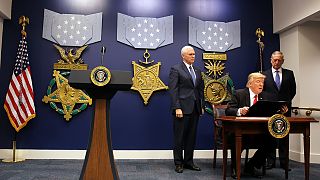 US President Donald Trump unveiled his new travel ban with much less fanfare than on the first time round. He released a photo of him signing of his latest executive order and left three cabinet secretaries to discuss it with the press.
The new ban once again includes a 90-day embargo on travellers, but applies to six of the original seven countries and now excludes Iraq.
An indefinite ban on Syrian refugees was replaced with a 120-day freeze.
Republican Senator for South Dakota, Mike Rounds, spoke in favour of the decision.
"The president's trying to keep Americans safe and we know that in these six countries that are remaining, those countries are not in a position to actually vet their own individuals trying to leave in an appropriate fashion. So it's OK if we take a short period of time, perhaps 120 days as suggested, and make sure that our policies are in place such that we can do a good job of vetting these individuals coming across."
Despite the modifications, lawyers are still threatening legal action, with some opponents claiming the order is xenophobic and Islamophobic.
On his campaign website, Trump still has a statement on immigration dating to December, 2015, in which he calls for "a total and complete shutdown of Muslims entering the United States until our country's representatives can figure out what is going on."
It continues:
"According to Pew Research, among others, there is great hatred towards Americans by large segments of the Muslim population. […] Mr Trump stated, 'Without looking at the various polling data, it is obvious to anybody the hatred is beyond comprehension."
Volunteer lawyer Yesenia Villasenor was among those concerned by the new ban.
"My biggest concern about this order is that we are specifically targeting people, innocent individuals that otherwise have no connection to terrorism or that do not present a risk, and this is harming everyday people, people who are travelling to this country for legitimate reasons," she said.
A small protest took place outside the White House following the unveiling of the ban, which will come into effect on March 16. The delay is said to be an effort to avoid the airport chaos and nationwide demonstrations that followed the first order. This, despite Trump initially tweeting that "the 'bad' would rush into our country" if there was a pause between the announcement of the ban and its implementation.
If the ban were announced with a one week notice, the "bad" would rush into our country during that week. A lot of bad "dudes" out there!

— Donald J. Trump (@realDonaldTrump) January 30, 2017