Barcelona fans celebrate incredible Champions League comeback
Comments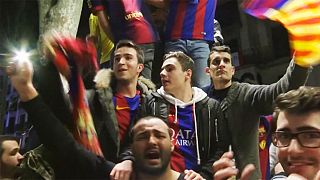 Their impossible dream came true on Wednesday night – and Catalans came out onto the streets to celebrate what has been hailed as the greatest comeback in Champions League History.
We have written a chapter in history!

Barcelona supporter
After starting the night 4 goals down, Barcelona beat Paris St-Germain 6-1 in the second leg.
A trio of goals in the closing moments sent the French club crashing out of the contest.
"It was a great match," Barcelona fan Albert Marin enthused, surrounded by cheering fellow supporters.
"We suffered until the last moment. No one thought we could score three goals in ten minutes but only a team like Barcelona can do it. We have written a chapter in history."
Miracle at the Nou Camp: Barça make history with 6-1 comeback https://t.co/PvjFMU8cXqpic.twitter.com/8dvomHzvXQ

— The Local Spain (@TheLocalSpain) 9 mars 2017
"We didn't expect it. It was in the final minutes. It was spectacular. I am speechless!" another fan added.
Having turned the tables to make it into the quarter finals, against the odds, the Spanish Champions now think they can go all the way in the contest. And who could argue with them!
Reaction: Spanish press hails Barcelona 'legends' https://t.co/tmKRAJhnYApic.twitter.com/1I83Ucqwno

— The Local Spain (@TheLocalSpain) 9 mars 2017