Murdered Kim Jong Nam's son appears in video
Comments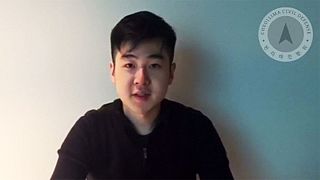 A man claiming to be the son of the slain, estranged half-brother of North Korea's leader said he was lying low with his mother and sister, in a video posted online by a group that said it helped rescue them following the murder a month ago.
Kim Jong Nam was killed at Kuala Lumpur International Airport by assassins who Malaysian police say used a super-toxic nerve agent.
An official at South Korea's National Intelligence Service said the man in the video is Kim Han Sol, the 21-year-old son of Kim Jong Nam.
"I'm currently with my mother and my sister…," he said, speaking in English, without disclosing his location or who he was living with.
"We hope this gets better soon," he added.
Malaysian police have identified eight North Koreans wanted for questioning in the case, but the only people charged with the murder so far are an Indonesian woman and a Vietnamese woman who police say wiped the VX nerve agent on the victim's face.