European court rules against Georgia on ownership of independent TV channel
Comments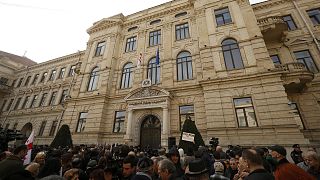 Journalists working for Georgia's biggest independent television station breathed a sigh of relief after a ruling from Europe's human rights court. It has suspended an attempt by the government to hand Rustavi 2 back to its former owner – a close government ally.
The ruling gives the channel's lawyers time to challenge the government's move in the European court.
Last week there were protests against a decision by Georgia's supreme court which supported the return of the station to businessman Kibar Khalvashi. Critics complained the court's ruling would silence the only strong media voice critical of the government.
The Supreme Court backed Khalvashi's claim that he was forced to sell the station cheaply under former President Mikhail Saakashvili.