Cavusoglu tells Germany not to lecture Turkey on human rights
Comments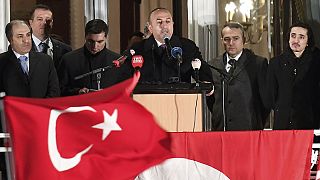 Turkey's Foreign Minister Mevlut Cavusoglu has slammed Germany – at a campaign rally in Hamburg.
Escalating the war of words between the two countries, he accused Berlin of hampering rallies in support of Turkish President Recep Tayyip Erdogan's bid for new powers in a referendum next month.
Addressing Turkish voters on Tuesday, he said in a fiery speech:
"You prevent us from meeting our Turkish citizens. Does this suit humanity? Does this suit democracy? Does this suit human rights? Does this suit people's right to meet?"
Each time the crowd roared "No!"
"Please don't attempt to give us democracy and human rights lessons," Cavusoglu told them.
"Look at yourself first."
Turkish Foreign Minister Mevlut Cavusoglu accuses Germany of 'systematic antagonism' https://t.co/v2pRTKTEh2pic.twitter.com/DGoi9q14PV

— dwnews (@dwnews) 7 mars 2017
The rally was held in the residence of the Turkish consulate-general after authorities cancelled the original venue.
On Sunday, President Erdogan accused German officials of acting like Nazis.
Anti-Erdogan demonstrators turned out in Hamburg on Tuesday to denounce the Turkish President, calling for a 'No' vote and branding him a dictator.