'Weeping Women' remember Mexico's missing students
Comments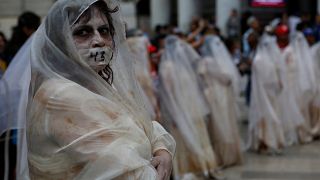 A group of 43 women dressed to depict "La Llorona" or "The Weeping Woman" took part in a street theatre performance in Mexico City on Saturday, designed to act as a poignant reminder of a tragic event.
The fate of 43 students from a southern Mexican town who disappeared in 2014 is still unknown.
In Hispanic culture, the "Weeping Woman" is the ghost of a woman who cries and looks for her children after losing them.
The student teachers were abducted in Iguala in Guerrero state from buses in which they planned to go to a protest in Mexico City.
The government's theory was that local policemen had turned them over to a heroin-trafficking gang.
International investigators found various degrees of complicity at all levels of administration. Relatives of the missing students have denounced a prosecutor's review of its handling of the case as part of a cover-up.
"Mexico's approach to fighting violence isn't one of fear…but of complicity." PacoGoldman</a>'s latest on Ayotzinapa. <a href="https://t.co/N3jL0rMbPQ">https://t.co/N3jL0rMbPQ</a></p>— Adam Goodman (adamsigoodman) March 2, 2017