China cuts its growth target to 6.5% for 2017
Comments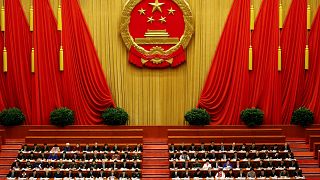 China has cut its growth target this year. The world's second-largest economy aims to expand by 6.5 percent, the premier announced at the opening of the annual meeting of parliament.
The country had set a target of 6.5 percent to 7.0 percent last year, and achieved 6.7 percent, supported by record bank loans, a speculative housing boom and billions in government investment.
"The fundamentals of the Chinese economy remain sound, the capital adequacy ratio and provision coverage of commercial banks remain high, and we have many financial tools and instruments that can be used. We have the confidence, the ability, and the means to forestall systemic risks," announced Chinese Premier Li Keqiang.
The slower growth rate gives China more room to push through painful reforms to address a build-up in debt. Economists believe it will prove to be a delicate balancing act to aid growth and maintain liquidity while seeking reforms.
Li warned against the dangers of global pressure for trade control, while also seeking to build up a consumer-driven economy and stem reliance on exports.
He announced they are looking to tackle so-called 'zombie enterprises' – a term encompassing inefficient firms with surplus capacity.