More than a thousand migrants rescued in one day from the Mediterranean
Comments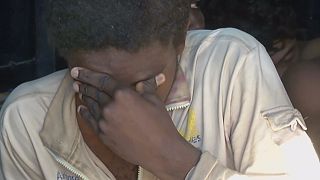 Around 900 migrants have been rescued from flimsy boats in the Mediterranean.
The coast guard says at one point, 10 separate search and rescue operations were underway.
In a statement, the Italian coastguard said a Norwegian ship working for the EU border agency Frontex and a vessel from the aid group SOS Mediterranee rescued migrants packed into four large rubber boats and six smaller vessels on Friday.
More than 800 people rescued on Thursday and were brought ashore in the port of Augusta in southeastern Sicily.
A Somali man, who had been among those rescued, died overnight on the ship.
870 #migrants just arrived in Augusta (Sicily),brought to land by the Italian Coast Guard.IOM staff provides assistance at landing point pic.twitter.com/Lqf6CN3W0r

— Flavio Di Giacomo (@fladig) 3 mars 2017
Almost 1,000 migrants rescued off Libya by guardiacostiera</a> <a href="https://twitter.com/Frontex">FrontexSOSMedFrance</a> <a href="https://twitter.com/openarms_fund">openarms_fundhttps://t.co/fx4VRgf83t#AFPpic.twitter.com/jK3LCgqk4D

— Mathilde Auvillain (@mathilderome) 3 mars 2017
Guardia Costiera: 900 migranti tratti in salvo nel Mediterraneo Centrale – https://t.co/MCKNXbrnUtpic.twitter.com/CtnbQOYwTJ

— GiornaleLORA (@GiornaleLORA) 3 mars 2017
The figures
Libya
The Libyan navy rescued 115 migrants from their overloaded boat and brought them back to Tripoli.
Their vessel went down around 3am on Friday, five kilometres off Tripoli.
"They are from different sub-Saharan countries, one from Bangladesh and six women," Tripoli naval forces spokesman Ayoub Qassem told reporters. "Our coastguards carried out a search operation in that area off Tajoura in attempting to find the missing ones but no one was found."
Another shipwreck off the Libyan coast. 25 missing migrants. 115 rescued. https://t.co/WtPtp9rqWq

— Flavio Di Giacomo (@fladig) 3 mars 2017
The numbers
Figures from the International Organisation for Migration suggest the numbers of migrants arriving by sea is dropping year-on-year.
16,927 migrants arrived in Europe by sea since the start of the year
80% through Italy
The rest through Greece and Spain
132,743 arrived in first 60 days of 2016
163 people have arrived in Greece since the 27th of February.
What they are saying
"These people had a very difficult journey. Many of the minors are unaccompanied, including small children. Some of them are very small indeed," Save the Children spokeswoman Giovanna Di Benedetto said at Augusta.