Turkish-German journalist writes letter from jail
Comments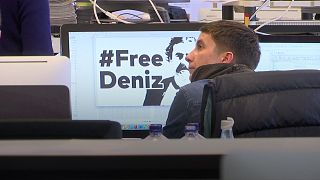 A journalist for a German newspaper being held in a Turkish prison has written a letter thanking his supporters.
Deniz Yücel, a Turkish-German journalist for Die Welt, was arrested on charges of propaganda and incitement to hatred.
Deniz Yücel schreibt aus dem Gefägnis, wo er zuletzt saß. welt</a> <a href="https://t.co/Ka0uipTQqN">pic.twitter.com/Ka0uipTQqN</a></p>&mdash; Manuel Bewarder (manuelbewarder) March 1, 2017
In his letter, he tells how he is sharing a courtyard with a handful of political prisoners in Istanbul, and has been given food, tea, coffee and newspapers.
German Chancellor Angela Merkel is among those calling for his release.
She said: "Independent journalism must be able to exist. Journalists must be able to do their work, and that's why we are thinking tonight of Deniz Yücel, who sits in custody in Turkey and needs to be set free."
Yücel's letter comes days after a visit to Germany by Turkey's Prime Minister Binali Yildirim, during which he addressed thousands of Turks.
In a controversial speech, he argued German Turks should vote 'yes' in a referendum to give more powers to President Erdogan.