Watch: Little panda really loves her keeper's leg
Comments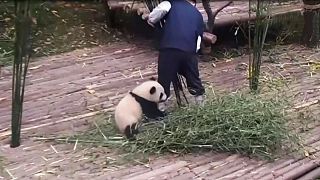 A panda cub at a breeding centre in Sichuan Province, China has developed a strong affection for her keeper and, more precisely, his leg.
The little bear can be seen in video footage embracing her keeper's leg with enthusiasm and even after he picked her up and carried her several metres away, the small animal made her way back to him.
No matter how big the distance he created between them, the panda cub found a way to crawl back down to the spot where he was preparing bamboo and attach herself to his limb.