Kim Jong-nam death: Malaysian authorities charge two women with murder
Comments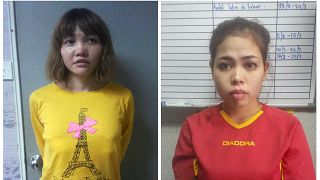 Two women accused of killing the estranged half-brother of North Korea's leader Kim Jong-un, have been charged with murder in Malaysia.
Siti Aishah, from Indonesia and Doan Thi Huong, a Vietnamese national wore bullet proof vests as they appeared in court Kular Lumpur.
Both face the death penalty by hanging if convicted. They deny the charges, claiming they were paid to take part in a TV prank.
Selvam Shanmugam, the lawyer for Duan Thi Huong said: "She denied it. She denied it. She said 'I'm innocent'. She was perfectly all right and she was calm. Of course she's definitely distressed because she is facing the death penalty."
Malaysian police say the two women smeared the deadly nerve agent VX on Kim Jong-nam's face at Kuala Lumpur's main airport. The chemical is listed as a weapon of mass destruction by the UN.
The investigation has created diplomatic tension between Malaysia and North Korea. Pyongyang has denied any involvement in the suspected assassination and has sent a high-ranking delegation to try to retrieve the body of Kim Jong-nam.