Trump's Conway causes controversy for "disrespectful" White House picture
Comments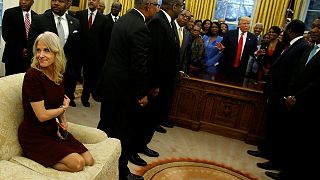 US Presidential advisor Kellyann Conway has sparked outrage and online ridicule this week not for something she said, but rather, for kneeling and wearing her shoes on a White House couch.
Conway was photographed by France's AFP news agency checking her phone after taking a cell phone picture of Trump meeting with more than a dozen historically black university leaders in the Oval Office.
AFP's original image has been shared more than 2,000 times and caused a social media storm, sparking an online debate about proper etiquette when in the country's highest office.
Kellyanne Conway checks her phone after taking a photo of President Donald Trump and leaders of black universities, colleges in Oval Office pic.twitter.com/MgVhCoJFuC

—

AFP

news agency (@AFP) February 28, 2017
While Conway kneels everyone else, including the president, is seen standing.
Commenters were quick to criticise what some saw as lack of respect for both the President of the United States, his invited guests, and the presidency in general.
JeremyPond</a> <a href="https://twitter.com/AFP">AFPKellyannePolls</a> To be fair, this relates to the Presidents who deserve respect. She should be standing for HBCU presidents</p>— Ben Johnson (Ben_T_Johnson) February 28, 2017
Media and political commentator Keith Olberman on Twitter launched a scathing critique of Conway's sitting posture, reminding her the White House is not "your home".
Others have merely, and rather simply, pointed out Conway's apparent lack of manners for someone of her political stature.
KeithOlbermann</a> <a href="https://twitter.com/KellyannePolls">KellyannePolls How inappropriate and disrespectful to sit there like a teenager texting friends. No class. No manners.

— Debbie Downer (@earthriseset) February 28, 2017
Kellyanne Conway, a grown woman, supposedly professional, in the highest office in the world, acting like a toddler with no home training…

—

HART

(@TEMPLE_LOTUS) February 28, 2017
And there has been backlash against the outrage with some commenters drawing comparisons to images of former President Barack Obama resting his feet on the Oval Office desk and former First Lady Michelle Obama sitting on White House couches.
Some even referred to former President Bill Clinton who was famously almost impeached following a political scandal caused by a sexual relationship with then intern Monica Lewinsky.
WHATDIFFERENCEDOES IT MAKE? realDonaldTrump</a> <a href="https://twitter.com/KellyannePolls">KellyannePolls dont let the #dumbdumbs drain your energy While kneeling pray for them we ♡ u pic.twitter.com/SG1tBy4TjK

— Madgie Nicolas #MAGA (@Creolecapucino) February 28, 2017
This is not the first time the internet's ire has been directed at Conway.
She has been previously criticised for openly supporting Ivanka Trump's clothing line during a television interview, which the US government ethics office said had "violated" ethics rules.
Also in early February Conway, who coined the term "alternative facts" in defending Trump's inauguration crowd numbers, caused an online scandal when referencing a massacre that never happened when initially trumpeting Trump's now-suspended executive order on immigration.