Trump accuses Obama of leaks and orchestrating protests
Comments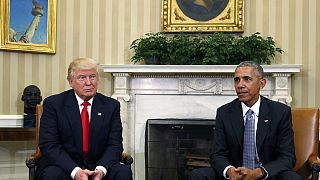 Donald Trump has accused his predecessor of playing a part in the organisation of nationwide demonstrations since his election win, including those against his controversial travel ban.
I think that President Obama's behind it [...] his people are certainly behind it.

US President
The US President also expressed rare self-criticism, awarding himself an 'A' grade for achievement, but a mere 'C+' for communicating his message.
@realDonaldTrump Grades His Performance: A for Achievement, But a C+ for Messaging @foxandfriendshttps://t.co/WAxALhkL5zpic.twitter.com/lktcLdgVID

— FoxNewsInsider (@FoxNewsInsider) February 28, 2017
Trump went on to blame Barack Obama for the leaks of classified information from the White House to the press.
"Well you never know what's happening behind the scenes, you're probably right, or possibly right, but you never know," he told Fox News programme Fox and Friends.
"No, I think that President Obama's behind it, because his people are certainly behind it. And some of the leaks possibly come from that group. You know some of the leaks, which are really serious leaks because they're very bad in terms of national security, but I also understand that's politics, and in terms of him being behind things, that's politics, and it will probably continue."
He didn't provide any evidence to support the claims and Obama has not commented on them.
However, former deputy national security adviser Ben Rhodes denied any involvement.
He is reported to have emailed The Atlantic saying:
"It's totally absurd and doesn't make any sense."