Merkel blasts Turkey over detention of German journalist
Comments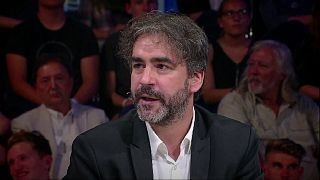 Chancellor Angela Merkel has condemned the detention of a German journalist in Turkey describing it as excessively harsh.
It follows the formal arrest of reporter Deniz Yücel earlier. He is accused of producing terrorist propaganda and inciting hatred.
Yücel, who has duel German and Turkish nationality, works for prominent newspaper German Die Welt. He was detained two weeks ago and has since been in police custody.
Ulf Poschardt, the Editor-in-chief of "Die Welt" said: "I feel low in a way that I could never have imagined. We were prepared for a few things, we had anticipated different scenarios, but that the worst of all the possible scenarios has become a reality, has left us stunned."
The detention's prompted calls for Yücel's release on Twitter.
Mathias Döpfner: WIRSINDDENIZ – Warum es guten, unabhängigen, also kritischen Journalismus braucht #FreeDenizhttps://t.co/ToZ6d4F6cBpic.twitter.com/gatxwvA2dx

—

WELT

(@welt) February 28, 2017
Wir sind Deniz. #FreeDenizhttps://t.co/PdI0erCQUtpic.twitter.com/YNlkM5RWTG

—

WELT

(@welt) February 28, 2017
Deniz'e özgürlük! Freiheit für Deniz! #FreeDenizhttps://t.co/ISgETRl9ZIpic.twitter.com/sYgQ4XF3eL

— taz (@tazgezwitscher) February 28, 2017
A critic of Turkey's ruling AK party he reported on hacked emails obtained from the private email account of Berat Albayrak, Turkey's energy minister and the son-in-law of president Erdogan.
He is the first German journalist to be held since a widespread crackdown was launched in Turkey following last July's failed coup.
The arrest, which Merkel also described as ''bitter'' and ''disappointing'' risks raising tensions between Berlin and Ankara. Turkey still remains a vital partner for Germany as it seeks to stem the flow of migrants to Europe.