Oscars 2017: "Moonlight" beats "La La Land" to best picture award after major gaffe
Comments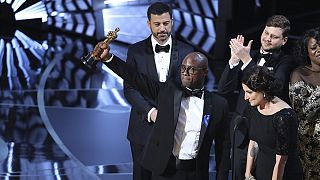 This year's Oscars ceremony had a surreal ending when veteran Hollywood stars Warren Beatty and Faye Dunaway misread the envelope for best picture. The top award actually went to Moonlight, and not La La Land, as initially announced.
The coming-of-age drama of a young black man growing up gay in a rough part of Miami beat the feel-good musical, which had been a favourite after clinching 14 nominations.
La La Land did however pick up a total of six Oscars including best director for Damien Chazelle – at just 32 years old – and best actress for Emma Stone, lead actress alongside Canadian heart-throb Ryan Gosling.
Casey Affleck won best actor for his role in Manchester by the Sea, which also picked up the Oscar for best original screenplay.
The Oscars were also highly political this year.
Host Jimmy Kimmel was just a few minutes into his opening speech when he cracked the first joke about US politics. "I want to say thank you to President Trump. Remember last year when it seemed like the Oscars were racist?" he said, referring to this year's diverse nominations.
Mahershala Ali made history, becoming the first Muslim actor to win an Academy Award. He won the first award of the night, best supporting actor, for "Moonlight."
"The Salesman" won the Oscar for best foreign language film. Its Iranian director Asghar Farhadi had boycotted the ceremony in protest over Donald Trump's travel ban targeting seven Muslim-majority nations.
"I'm sorry I'm not with you," Farhadi said in a statement read on his behalf. "My absence is out of respect for the people of my country and those of other six nations whom have been disrespected by the inhumane law that bans entry of immigrants to the U.S."
Viola Davis won best supporting actress for her role alongside Denzel Washington in "Fences," and "Zootopia" won best animated feature film.
LIVEBLOG: