Tweeting accountant blamed for Oscars blunder
Comments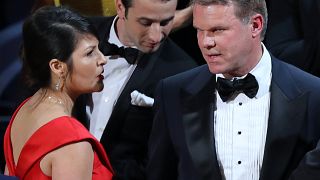 One of the two PricewaterhouseCoopers accountants who were in charge of Academy Awards procedure has been blamed for the Best Picture blunder, because he was reportedly posting backstage photos of the ceremony to his Twitter page.
Brian Cullinan, who describes himself as Managing Partner for PwC's southwest division, is one of two people who hand out the winner's envelopes to the celebrities announcing each prize. Several media outlets reported that Cullinan posted a picture of 'La La Land's' Emma Stone just moments before the Best Picture mix-up, and therefore may have been distracted from his task.
The photo has since been deleted from Cullinan's account, but was reportedly still viewable on Monday through the cached archive of the page.
It has now been re-shared by an Australian journalist.
Hang this on the wall.
The photo taken by PWC Brian Cullinan, after Emma Stone won, and moments before he handed out wrong #Oscars envelope pic.twitter.com/hmi8n7micI

— Rhett Bartlett (@dialmformovies) February 28, 2017
In a statement also posted on Twitter, PwC said they take "full responsibility" for the error, but explain that "PwC Partner Brian Cullinan mistakenly handed the back-up envelope for Actress in a Leading Role…to Warren Beatty. Once the error occurred, protocols for correcting it were not followed through quickly enough by Mr Cullinan or his partner".
The case of the wrong envelope led to what has been described as "The biggest fiasco in Oscars history" when Warren Beatty and Faye Dunaway announced that 'La La Land' won the prestigious Best Picture prize, when in fact Barry Jenkins' 'Moonlight' was the winner.
The error was caused by the pair being given the envelope containing the winner of the Best Actress prize. The winner in that category, who had already been announced, was Emma Stone. Stone won the gong for her role in 'La La Land', and as Mr Beatty tried to explain, seeing her name on the card led the presenters to believe a misprint had occurred, and the winner was the film Stone had starred in.