Life sentences given to two street racers who killed in Berlin
Comments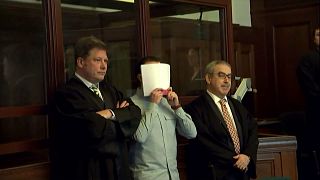 A court in Germany has decided to make an example of two street racers who killed a man when crashing their cars in Berlin.
The men, known only as Hamdi H. and Marvin M. were sentenced to life imprisonment for murder, the first time prosecutors have sought the murder charge for a road accident.
In February last year the two men hit speeds of 160 kph as they raced through red lights.
"You have the power. When you have 400 or 500 horsepower all it takes is a little movement of your foot and you can show enormous power, something you do not find in the professional or personal life of these people," said traffic psychologist Haiko Ackerman.
The accident provoked an uproar im Germany when it happened with politicians and celebrities tweeting their disgust and demands fro exemplary punishment.
The two men will serve at least 15 years in jail. Germany is cracking down on street racing and considering a 10-year jail penalty for it, instead of the current fine and licence suspension.