ISIL claims responsibility for foiled bomb attack on Algerian police station
Comments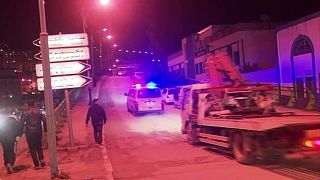 ISIL has claimed responsibility for a foiled bomb attack on an Algerian police station, the group's AMAQ news agency reports.
According to state media, the would-be bomber was shot before he could enter the building in the eastern city of Constantine. Reports suggest the bomb exploded, killing the suspect and injuring several people.
Algeria's Interior Minister warned of the need for vigilance.
"I say here that we need to be alert to stop such acts that aim to destabilise this country, especially at this time when we are gearing up for legislative elections," Noureddine Bedoui told reporters.
Critics say the outcome of the May 4 vote is a foregone conclusion, with President Abdelaziz Bouteflika's ruling National Liberation Front (FLN) widely expected to win.
Attacks and bombings are less common than they were before he was first elected in 1999, but al Qaeda's North Africa branch and small pockets of ISIL-affiliated militants are still active.