French Greens embrace Socialists and start joint presidential campaign
Comments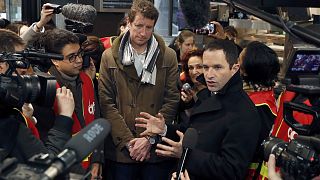 For the first time since the 1960s there will be no Green candidate in May's French presidential election, the Green leader Yannick Jadot officially joining forces with the Socialist's Benoit Hamon, and supporting his bid.
They've stepped out together to meet the press, and the Greens' percentage points boost Hamon's chance of a second round showdown.
"Notre responsabilité est de permettre un quinquennat écologiste, social, européen et démocratique" pic.twitter.com/ySKD40sI5Z

— EÉLV (@EELV) February 26, 2017
"I ask only for public tax returns for each country. A company should say where it makes money so we know where it should pay taxes. Today, systems allow them to transfer profits elsewhere and then say 'sorry, we made no French profits, so no taxes'," says Hamon, who comes from the left of the party.
If Jadot's voters follow his lead the Socialists could climb out of their sub-20% pit and challenge for the second-round run-off vote that opinion polls say will be versus Marine Le Pen's Front National.
At the moment polls say her most likely opponent is the centrist former Socialist minister Emmanuel Macron and his new En Marche formation, and both he and Hamon would win against Le Pen.