Rio's carnival in full swing with elite samba school parades
Comments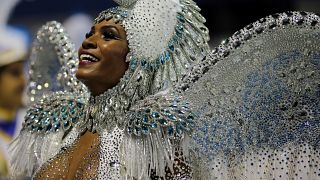 Rio de Janeiro's annual samba extravaganza got into full swing on Saturday in typical style.
Hundreds of thousands of people poured into the Brazilian city to watch elite schools compete on the second day of parades.
More than 70 samba schools are taking part in the five-day carnival.
Though the festive crowd are perhaps keen to forget it, this year's event is taking place as the country tries to escape from economic recession and political instability that saw the president impeached last year.
Rio hopes the festival will draw more than a million visitors and generate around a billion dollars for the local economy.