'Moonlight' triumphs at Independent Spirit Awards on eve of Oscars
Comments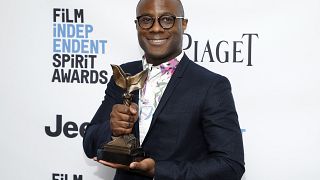 On the eve of the Oscars, the Independent Spirit Awards have taken place in Santa Monica, honouring small-budget independent films.
"Moonlight" triumphed among the list of winners with six victories including the top award – best feature – as well as best director and best screenplay for writer-director Barry Jenkins, and an ensemble cast award. The movie tells the story of a black gay man growing up in a deprived district of Miami.
"Moonlight" will be competing for eight Oscars, including best picture. The last three winners of the Spirit Awards – "Spotlight", "Birdman" and "12 Years a Slave" – all went on to win the best picture Academy Award.
'Moonlight' dominates defiantly inclusive Independent Spirit Awards: https://t.co/hMgKyaVP0Mpic.twitter.com/a9GDZIupTk

— The Daily Beast (@thedailybeast) February 26, 2017
French star Isabelle Huppert was named best actress for playing a woman who pursues her rapist in "Elle". Paul Verhoeven's psychological thriller has been widely acclaimed and Huppert has already won several awards for her performance.
Isabelle Huppert's subversiveness has transformed the actress, an Oscar contender, into fashion's unlikely new muse https://t.co/OlDdiJnbHZpic.twitter.com/eF2fYf4lW1

— The New York Times (@nytimes) February 26, 2017
Casey Affleck won Best Male Lead for his role in "Manchester By The Sea", about a working-class American family dealing with multiple tragedies.
His criticism of Donald Trump in his acceptance speech – "the policies of this administration are abhorrent and they won't last," he said – are not expected to be the last this weekend.
Casey Affleck: "The policies of this administration are abhorrent and they will not last" https://t.co/X2vRNJjXbI#SpiritAwardspic.twitter.com/7qBxEZHFIg

— Hollywood Reporter (@THR) February 26, 2017
Several actors have already spoken out against the new US president – including Michael J Fox and Jodie Foster at a rally on Friday.
What is said at Sunday's ceremony, along with what Trump might say in response, are being as eagerly awaited as the awards themselves.
Last month the president attacked Meryl Streep after the actress criticised Trump's behaviour and compared him to a bully.