Trump trashes Streep: US president-elect calls award-winning actress 'over-rated'
Comments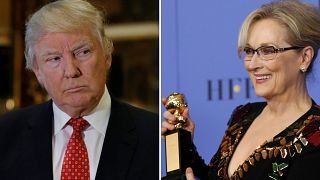 US President-elect Donald Trump has lashed out at Meryl Streep following her apparent criticism of him at the 2017 Golden Globe Awards. He called the actress, who has eight Golden Globes, three Academy Awards, two BAFTAs and countless other accolades under her belt, "over-rated."
Meryl Streep, one of the most over-rated actresses in Hollywood, doesn't know me but attacked last night at the Golden Globes. She is a.....

— Donald J. Trump (@realDonaldTrump) January 9, 2017
==
Hillary flunky who lost big. For the 100th time, I never "mocked" a disabled reporter (would never do that) but simply showed him…….

— Donald J. Trump (realDonaldTrump) <a href="https://twitter.com/realDonaldTrump/status/818421066859167746">January 9, 2017</a></blockquote> <script async src="//platform.twitter.com/widgets.js" charset="utf-8"></script><blockquote class="twitter-tweet tw-align-center" data-lang="en"><p lang="en" dir="ltr">"groveling" when he totally changed a 16 year old story that he had written in order to make me look bad. Just more very dishonest media!</p>&mdash; Donald J. Trump (realDonaldTrump) January 9, 2017
==
Streep's comments related to Trump's alleged mimicking of a disabled reporter during a rally in South Carolina when he was running for president. They came as she accepted a lifetime achievement award at the Golden Globes.
"It was that moment when the person asking to sit in the most respected seat in our country imitated a disabled reporter. Someone he outranked in privilege, power, and the capacity to fight back."
Streep received three standing ovations following her speech.