Kim Jong Nam 'died within 20 minutes' of nerve agent attack
Comments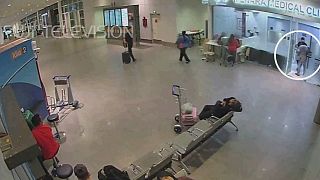 The half-brother of North Korea's leader died within 20 minutes of being poisoned with a nerve agent at a Kuala Lumpur airport, according to the Malaysian authorities following a post mortem.
Two women and a North Korean man have been detained.
Malaysia's health minister has said the examination showed Kim Jong Nam suffered serious paralysis that eventually lead to his death.
"The other challenge that we're facing is of course the identification of the body," the Health Minister, Subramaniam Sathasivam told a news briefing. "Of course the best will be to have the next of kin, blood-related kin, where we can do DNA profiling, comparative profiling… We work with the police in seeing how that material can be attained."
Hyon Kwang Song, 44, a second secretary at the North Korean embassy in Kuala Lumpur, is wanted for questioning over the murder but has yet to come forward. Seven North Koreans in all are wanted over the case.
The airport terminal where Kim Jong Nam was attacked was declared a "safe zone" on Sunday after a search found no trace of VX, the lethal nerve agent found on the victim.
Indonesian national Siti Aishah, one of the suspects detained in connection with the murder, has reportedly said she was put up to the act and believed she was using baby oil as part of a prank for a reality TV show.