Suspect in Kim Jong-nam killing claims she 'was paid to carry out a prank'
Comments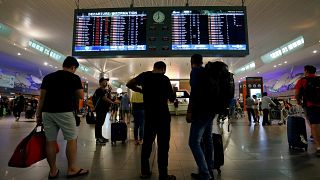 An Indonesian woman arrested for the murder of North Korean leader Kim Jong-un's half-brother has claimed ignorance, saying she was paid the equivalent of eighty five euros to smear what she thought was baby oil in his face.
Siti Aisyah said she was given cash to carry out a prank on Kim Jong-nam as part of a reality show.
However, her story was vague, according to police.
Andreano Erwin, Indonesian Deputy Ambassador to Malaysia told reporters outside Cyberjaya police station where the girl is being held: "She only said that somebody asked her to do this activity and was given a kind of baby oil. She said she met with some people who looked Japanese or Korean."
"According to her, that person gave her 400 ringgits to do this activity… She only said she was given a kind of oil, like baby oil."
Police search for suspects
Vietnamese Doan Thi Huong has also been arrested on suspicion of murder.
Vietnamese officials made no comment
Police are still trying to find out how the women were given the deadly VX nerve agent, traces of which were found in swabs taken from Kim Jong-nam's eyes and face.
Police are still wanting to question Hyon Kwang Song, a senior North Korean diplomat at the country's Malaysian embassy seen here in a red t-shirt
The police said they had written to the North Korean Ambassador to Malaysia asking to interview Song, and said they would allow a reasonable amount of time for a response.
If the ambassador does not cooperate, "we will compel them to come to us", they said, without giving further details.
Kim Jong-nam died last week after he was briefly accosted by two women at Kuala Lumpur airport.
He sought medical attention, but had a seizure and died en route to the hospital.
What is VX?
The extremely noxious VX nerve agent is very difficult to manufacture, leading some to suggest the involvement of a nation state.
The most potent of the known chemical warfare agents, only 0.01 grams smeared on the skin or eye can kill an adult human within minutes.
Smaller doses can cause drowsiness, vomiting and blurred vision.
The clear, amber-coloured, oily-liquid is tasteless and odourless and is banned under the UN Chemical Weapons Convention of 1993,
Kim Jong-nam's fall from grace
Once touted as the future leader of North Korea, Kim Jong-nam fell out of favour with his father, Kim Jong-il after trying to enter Japan with a false passport.
He was travelling on forged Dominican Republic documents, and said that he had intended to visit Tokyo Disneyland.
The embarrassment caused by the incident led his father to cancel a planned visit to China and to abandon his first-born son in favour of Kim Jong-un, who took power in North Korea after Kim Jong-il's death.
After his fall from grace, Kim Jong-nam became an outspoken critic of the North Korean regime, prompting some to believe that the secretive state ordered his assassination.