Homs attack - a deliberate attempt to derail Geneva peace talks?
Comments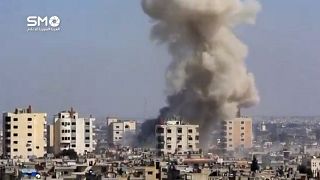 A deadly attack in the Syrian city of Homs is being slammed as a deliberate attempt to wreck peace talks in Geneva.
UN peace envoy Staffan de Mistura said the warring sides should not allow such "spoilers" to succeed.
Suicide bombers stormed two security offices in Homs, killing dozens with gunfire and explosions – including the head of military security.
This as the opposing sides in Geneva traded blame and appeared no closer to actual negotiations.
Attack on #Syria security forces in #Homs kills dozens, prompts airstrikes despite Geneva peace talks https://t.co/FQiuUriLEy

— Stephanie Nebehay (@StephNebehay) 25 February 2017
"Today the national test is that we expect these platforms, the opposition platforms, to condemn this terrorist act. What happened has cast a shadow over Geneva," said Bashar al-Jaafari, Head of the Syrian government delegation.
"Therefore the terrorist attack that took place in Homs was not only a military terrorist attack, it was also a political terrorist attack."
Syria's top opposition delegates in Geneva said the do condemn terrorism, but hinted that the government may have been behind the Homs attacks.
"The regime is trying to sabotage the talks. We promise our people and we promise you that we will continue in this political process trying to achieve our goals," said Nasr al-Hariri, lead opposition negotiator.
#Assad Regime Using #GenevaTalks to Cover up Crimes against Syrian People https://t.co/m2rMBbaykr#Syria#Geneva#Homs#Alwaerpic.twitter.com/AJ1qtd05U6

— Syrian Coalition (@SyrCoalition) 25 February 2017
The jihadist rebel alliance Tahrir al-Sham – which opposes the Geneva talks – celebrated the Homs strike, but stopped short of explicitly claiming responsibility.