South Koreans take to the streets to protest Park presidency
Comments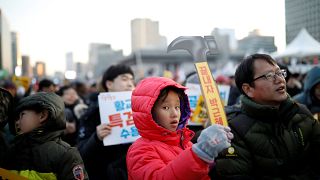 Hundreds of thousands of demonstraters took to the streets in Seoul as part of a candlelit rally to demand the resignation of President Park Geun-hye.
The rally was largely peaceful, with songs and speeches amid angry calls for her to step down.
The leader, who was impeached by parliament in December over a corruption scandal, remains in power while South Korea's constitutional court decides whether to uphold the impeachment.
The scandal broke last year when Park was accused of colluding with her friend Choi Soon-sil to pressure big businesses to donate funds to two foundations set up to back the president's policy initiatives.
If her impeachment is upheld, the leader would become the first democratically elected President of South Korea to be removed from office.
A new election would have to be called in 60 days to decide a new leader for a full five-year term.