Raucous Rio gets into its carnival rhythm
Comments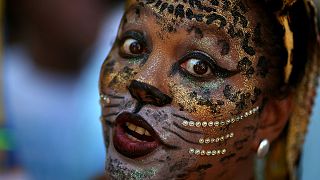 Rio de Janeiro's annual samba extravaganza has got underway in typical raucous style.
The five-day carnival, which will see more than 70 samba schools participate, kicked off on Friday.
The beating heart of each school is the percussion band which keeps up the rhythm for dancers.
Despite an ongoing recession and police strikes that raised security concerns in recent weeks, thousands of locals and tourists swarmed across Rio for the start of the festival, which the city expects will draw more than 1 million visitors and generate about $1 billion (946 million euros) for the local economy.