Tunisia in a quandary over nationals suspected of jihadist crime in Syria
Comments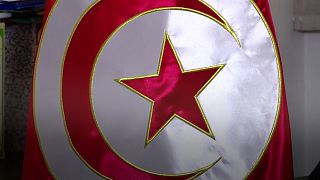 Mohammed Bel Hadj Amor left Tunisia for Syria at the age of 19 in 2012. He is one of many young and impressionable Tunisians to head to the war zone.
Upon arrival his group came across ISIL fighters who killed his four friends.Mohammed was then detained by Syrian forces and is currently still in custody.
His mother is distraught, she wants her son back.
Rabia Farjallah takes up the story: "My son is still the same person he was before. He wants to come back to Tunisia. He wants to earn money and support his family. He wants to live with me. My son broke down when he heard about the death of his father. He is still young. He was exploited. I want my son back."
In messages to his mother Mohammed says he went to give aid to the Syrian people, but the man who urged him to travel died fighting for ISIL.
She believes the government are thwarting his return.
Many Tunisians have heeded the ISIL call and there is a growing movement not to allow them to return to the country of origin.
Well-reported story on Tunisia's problem of returning jihadists ———> https://t.co/V6UfHnAXA9

— Amy Hawthorne (@awhawth) February 24, 2017
Dr. Boutheina Chihi Ezzine is the organiser of protests against the return Tunisian nationals who had joined ISIL in Syria:"We understand perfectly the feelings of the mothers who are eagerly awaiting the return of their children, of their sons. We understand that and stand with them. But we are not with the terrorists. We cannot be"
An organisation set up to help those returning from Syria believes a one size fits all approach is misleading.
Mohammed Iqbel is the head of the Rescue Association of Tunisians Trapped Abroad:"There are terrorists, there are innocent people, there are those who fought for the Syrian opposition. We need to classify them, lets not talk about terrorists, we don't support terrorists."
In Tunisia Soldiers kill 2 suspected jihadists https://t.co/Kd5z3c3qRzpic.twitter.com/BS5AnBUkQP

— Paulo Félix (@osint) February 18, 2017
There are legal implications attached to forbidding Tunisian nationals return:
Chafik Hajji, is the director general of consular affairs at Tunisia's Foreign Ministry:"Article 25 of the Tunisian Constitution says that it is forbidden to deprive a Tunisian of their citizenship and to prevent them from returning home. Therefore we treat this subject with all the seriousness and responsibility that it deserves, and, as I have said, the legal system will have the last word."
In the bloody chaos that is Syria papers and criminal files are hard to get hold of.
FACT: #Tunisia has become one of the top exporters of jihadists. Learn more about extremism in the country here: https://t.co/d7Otc7zebLpic.twitter.com/Qbt9HEqfVa

—

CEP

(@FightExtremism) December 27, 2016
Ridha Raddaoui is a researcher at the Tunisian Centre of Research and Study of Terrorism: "How can we judge people based on files we don't have? On crimes we know nothing about ? We don't know what happened in Syria, we have no files."
There is a felling that Tunisia must risk readmissions from Syria, Iraq and Libya, so that those accused of extremist crimes can face justice in their own courts.