Malaysian police sweep Kuala Lumpur airport for WMD traces as VX confirmed in Kim killing
Comments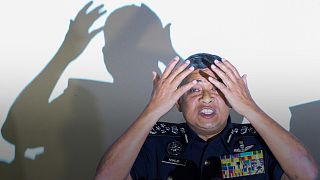 The Malaysian police have confirmed the deadliest nerve agent ever created, VX, was used to kill Kim jong-Nam.
It is so deadly it is classed as a Weapon of Mass Destruction by the United Nations.
The British-developed compound's only known use is as a chemical warfare agent.
An autopsy North Korea attempted to block found traces on the half-brother of ruler Kim jong-Un, and Kuala Lumpur airport in which he was allegedly infected by two women on February 13 is being swept for traces of anything that could be linked to the attack.
"It is more than a hundred times more toxic than the nerve gases commonly used like Sarin gas, and the problem of VX is that it is toxic, tasteless, colourless, and very hard to detect," says the Korea Institute for Defence Analysis Centre for Security and Strategy's
Kim Chul Woo.
Police said they were also sweeping for "radioactive" traces.
North Korea is thought to have the world's third-largest chemical weapons arsenal and is one of only six nations not to have signed a global chemical weapons convention banning their production, stockpiling and use.