Chemical weapon used to kill North Korean leader's half-brother - police
Comments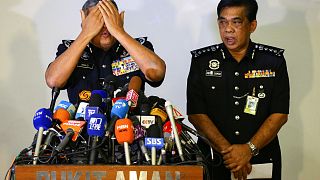 The estranged half-brother of North Korean leader Kim Jong-un was killed with a chemical weapon known as VX nerve agent, according to Malaysian police.
Kim Jong-nam died after being assaulted at Kuala Lumpur international airport last week. The attack was captured on CCTV.
Police say swabs taken from the eye and the face of a North Korean national by the chemistry department of Malaysia revealed the presence of VX.
Officers say they have suspects. They are holding one North Korean man and are seeking another seven. Interpol has been asked for help. Two women have also reportedly been detained.
Earlier, a police chief said that a Vietnamese woman and an Indonesian woman wiped a liquid on Kim Jong-nam's face.
South Korean and US officials believe North Korean agents assassinated him. Pyongyang denies being responsible.
Kim Jong-nam had been living in the Chinese territory of Macau under Beijing's protection and was preparing to board a flight back there.
VX nerve agent found in Kim Jong Nam death is among world's most deadly https://t.co/jItyvChHe6

— Wall Street Journal (@WSJ) 24 February 2017
VX nerve agent is a chemical weapon classified as a weapon of mass destruction by the United Nations.
It can be manufactured as a liquid, cream or aerosol. Absorbed in large doses, it is fatal after 15 minutes, according to the US Army's Edgewood Chemical Biological Center, making it the most toxic known nerve agent in the world.